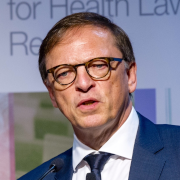 Prof. Luc Deliens published a blog on the Transnational Forum on Integrated Community Care (TransForm), discussing Compassionate Communities as a response to the limitations of the palliative care professional services. 
Despite its achievements, prof. Deliens argues, "the palliative care movement continues to face challenges from demographic transitions (aging of our societies and increased life expectancy), and changing patterns of illness (chronic illness replacing acute illness)."
"One of the responses to these concerns has been to redefine how end-of-life care is understood. Rather than holding it as a medical issue, under the responsibility of professionals in medical and social care, it should be reframed as a social experience and people have to learn again to take care of each other when confronted with death, dying, serious illness and bereavement. This can and should be done in partnership with the professional palliative care services. This approach of working in partnership with communities is now named the new public health approach to end-of-life care. The Compassionate Community model has attracted most attention in this new public health approach to end-of-life care."
Read the entire article here.