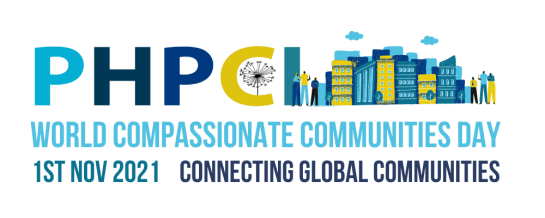 Public Health Palliative Care International (PHPCI) has anounced the Inaugural World Compassionate Communities Day. 
1st November 2021
"World Compassionate Communities Day aims to build on the momentum of the growing number of Compassionate Communities projects and programs, highlight the work of members and member organizations around the globe, and continue to mobilise and connect people through local compassionate actions related to dying, death, caregiving and grief.
This online event will 'chase the morning' across the world's time zones, starting in Australasia, and moving west across Asia, Africa and Europe, until its conclusion in the Americas. It is a rolling forum for Compassionate Communities to showcase who they are, what they do, who they help, and how they can be created through sharing information, highlighting current initiatives, and demonstrating supportive tools. This can inspire and motivate others to get their own initiatives going.
The inaugural #WorldCCDay on 1st November will culminate in an online symposium on 2nd November 2021, where leaders in Public Health Palliative Care, Compassionate Communities, and related areas will explore contemporary and future issues."
Save the dates
1st November 2021 World Compassionate Communities Day
2nd November 2021 World Compassionate Communities Day Symposium
Read more on the PHPCI website.